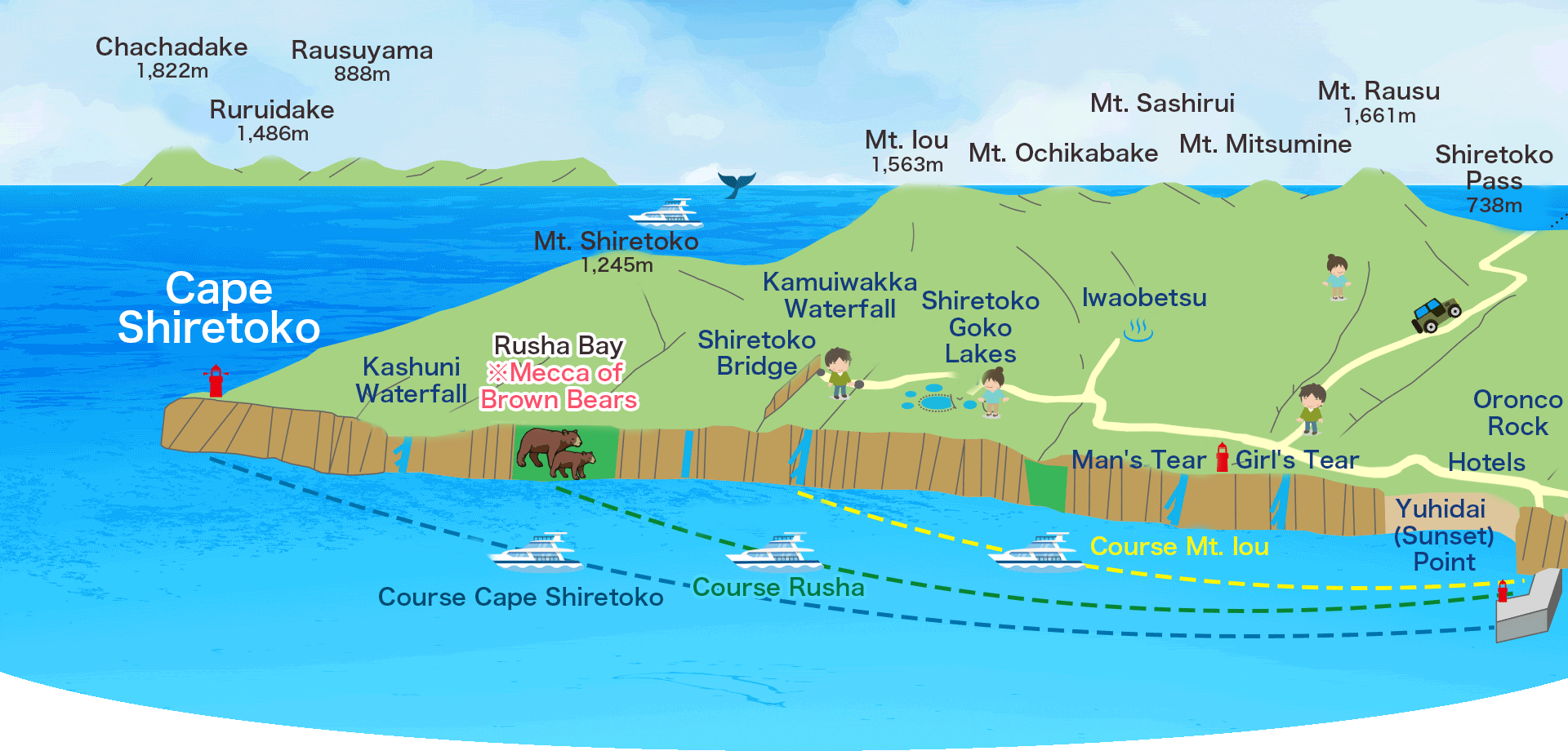 Notification for Taking This Touring Set Plan
Transportation between Utoro & Rausu
It takes 40~50 minutes to drive across Utoro & Rausu (via Shiretoko Pass)
Please choose your tour after full understanding where to get on aboard (Utoro or Rausu), check-in & departure time of each course and making sure you have sufficient time to move across.
Please make sure you know where to get on board and when to check-in.
Please understand that we are not responsible for any course missed by you for the above reasons.
Applicable Days
Jun. 1.~Spt. 30.
Sailing Season
Tour Fees
・Separate reservation of each course will not be applicable for this touring set plan.
・Those who apply for this plan are not eligible for various discount services other than the discount for persons with disabilities.
・We will provide 10% discount for your cruise if any course being canceled.
Minimum Number of Participants
Utoro Shiretoko Cape course: 7 participants.
Rusha course: 7 participants.
Mt. Iou course: 5 participants.
Rausu whale-watching cruise: 5 participants.
Please understand that courses may be cancelled if total number of participant based on reservation is less than minimum.
Courses may be cancelled if number of participant is less than minimum.
Cancellation Policy
We accept cancellation by you 3 days or more before your cruise day.
We will charge total fees if you cancel less than 24 hours before the cruise day.
Please complete the online reservation form at least 72 hours before the first course on your cruise day.
(※Any reservations initiated by telephone will not be acceptable for this touring set plan.)
Touring Set Plan Fees
| Course | 13y up | 6~12y |
| --- | --- | --- |
| Rausu whale-watching course + Utoro Shiretoko Cape course | ¥15,400 (Original¥17,800) | ¥7,700 |
| Rausu whale-watching course + Utoro Rusha course | ¥12,800 (Original¥14,800) | ¥6,400 |
6 to 12 years old children are half price of adults. Children under 6 years old are free of charge.
Booking set plan
Reservation status
: Reservable
: Remaining
: Ship canceled / Off-season
: Less than minimum requirement so far. Might be rearranged
Utoro
Course Shiretoko Cape

09:00

Course Shiretoko Cape

13:30

Course Rusha

10:00

Course Rusha

14:30

Course Mt.Iou

08:45

Course Mt.Iou

13:15




























































































































































































































































































































































































































































































































































































































































































































































---
Rausu